Simon Fell > Its just code
BTW, you should check out the contents for the March 2002 issue of MSDN Magazine :)
< 7:28:04 PM # more elsewhere > Trance Atlantic Airwaves - Pulstar


It certainly helps to have content that people will come back to see daily, such as the blogs run by Dane, Garth, and Simon. [Bill Simoni's Radio Weblog] Wow, I guess the pressure's on now to write something every day, thanks Bill !
Alan Ewald's talk on XML Spaces looks particularly interesting.
< 6:48:25 PM # more elsewhere > Trance Atlantic Airwaves - Axel F.


See you at the Web Services DevCon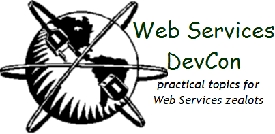 < 6:29:26 PM # more elsewhere >


Discussion of the recent update to the Apache Jakarta site can be found here. [Sam Ruby's Radio Weblog] You should check out the discussions, there are some great sound bites, "in truth EJB and particularly Entity beans is a less that elegant kludge" and "In truth J2EE is kind of a scam."
< 6:15:30 PM # more elsewhere >